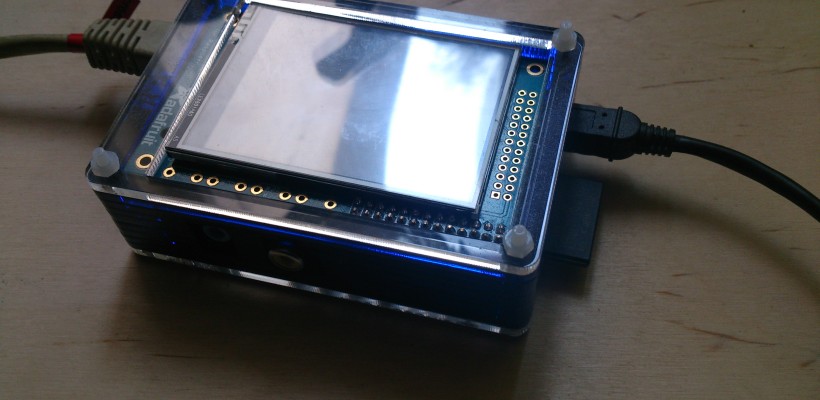 This is a project I'm working on for quite some time. A few months ago I got my Raspberry Pi delivered. My initial thought was to use it as a multimedia PC connected to the TV in the living room. This has been working as a charm for quite some time. But then I decided to take it to the next level. What if I just want to listen to the music I still need to turn on the TV. So I've bought an LCD touchscreen from adafruit. That goes into the GPIO slot on raspi. This way I can have fully operational XBMC running withouth having to turn on the TV to controll it. What's even more awesome I shouldn't need a mouse or a keyboard to controll it because the LCD comes with a touchscreen so I can even take it with me if I want to and all I need is just the small box.
I had so much trouble getting the screen to work with any of the linux distros that have the XBMC already running. I didn't want to install XBMC on top of a Raspbian because this distribution comes with so many stuff in it that it makes the CPU cry. I want something lightweight and fast. The idea is to have both screens (TV and LCD) to display the same image as a clone on a dual monitor setup.
The next issue I've had is that I found most of the setups pretty harsh to do while most of the solutions to get the driver working involved recompiling both the kernel and the XBMC. But with a little digging I found a perfect solution for me that's quick and easy to do. What's even better it can be teoreticaly done on any of the ditros with XBMC in it. I'm currently running Raspbmc but I want to try Xbian as well maybe Openelec whenever I find some time to do so.
UPDATE: For whatever reason this doesn't work on Xbian 1.0 BETA 2 for now.
There is no complete tutorial for this I had to improvise a bit go get it running. So this is what I had to do.
install raspbmc as instructed on the official page
SSH into the system
make a directory to work in 

 mkdir rpilcd 

jump inside it

 cd rpilcd 

from the adafruit site download just the kernel and the driver. You can choose the released driver or the new beta driver with DMA (I will be using the new beta driver for this purpose). For the beta driver do:

 wget http://adafruit-download.s3.amazonaws.com/raspberrypi-bootloader-adafruit-20140227-1.deb 

or for the stable driver:

 wget http://adafruit-download.s3.amazonaws.com/raspberrypi-bootloader-adafruit-112613.deb 

next extract the downloaded .deb file

 ar p raspberrypi-bootloader-adafruit-20140227-1.deb data.tar.gz | tar zx 

we need to remove the usr directory

 rm -rf usr 

go into the boot directory and delete everything but the kernel.img

 cd boot 

 rm bootcode.bin 

 rm fixup.dat 

 rm fixup_cd.dat 

 rm fixup_x.dat 

 rm kernel_emergency.img 

 rm start.elf 

 rm start_cd.elf 

 rm start_x.elf 

now this is optional but I strongly recomend to do this. We need to rename the kernel.img file to something else so we can jump back to the original one if something goes wrong. So:

 mv kernel.img kern_lcd.img 

go back to the working directory

 cd ~/rpilcd 

create a new tar file to use as an installation file for the new kernel and drivers

 tar cvzf pitftkern.tgz lib boot 

you can store this file somewhere outside of the pi if you want to to use it anytime you want to reinstall the pi completly
copy the newly created file to the root directory

 cp pitftkern.tgz / 

now extract the file

 cd /; sudo tar xvzf pitftkern.tgz 

next thing we need to tell the pi to boot using the new kernel

 sudo nano /boot/config.txt 

and change the line kernel=kernel.img to kernel=kern_lcd.img
we are done with the kernel and driver installation so we just need to reboot

 sudo reboot 

after the PI starts ssh back to it
now we can continue the installation as shown in the adafruit tutorial 

  sudo nano /etc/modules 

and add two lines:

spi-bcm2708

fbtft_device 

for the modprobe configuration do

 sudo nano /etc/modprobe.d/adafruit.conf 

add this line: options fbtft_device name=adafruitts rotate=90 frequency=32000000
Next I'm not sure if this is necessary because I don't have the touchscreen working yet properly but anyhow:

 sudo mkdir /etc/X11/xorg.conf.d; sudo nano /etc/X11/xorg.conf.d/99-calibration.conf 

add this to the file




Section "InputClass"


Identifier "calibration"




MatchProduct "stmpe-ts"




Option "Calibration" "3800 200 200 3800"




Option "SwapAxes" "1"




EndSection



next we need to install a small tool called fbcp that is able to copy the main screen which is the HDMI output to the newly installed framebuffer that is the LCD display so we have a working double header. I have already a bin file made from this so you just need to download it.

 cd ~; wget http://sernato.sk/?ddownload=5192 

extract the fbcp

 tar xvf fbcp.tar 

we need to make the fbcp application to start after the xbmc starts so we can see the xbmc screen on the LCD for this there is a nice tool that can run shell commands from the xbmc called xbmc callbacks

 wget https://github.com/pilluli/service.xbmc.callbacks/archive/v0.5.zip 

now we need to install these. For that go into the XBMC screen using the HDMI output for now. And install the plugin from the zip file we just downloaded: service.xbmc.callbacks-0.5.xip
After it's installed go to programs and settings for the XBMC callbacks program. You will see a screen showing a couple of callbacks that you can use to run commands. The one we are interested in is XBMC Starts.
press enter on that setting and it will open a filemanager now navigate to your home folder and choose the fbcp file and confirm.
after this everything is set and we can restart again.
when the XBMC starts it should show up on the main HDMI screen as well as on the LCD screen.
As of now this is the most I've been able to achieve currently I'm looking for a solution to get the touchscreen working. It's seems it's not calibrated and I'm trying all the solutions I can find online but with no success so far. And I'm avoiding the once that involve any sort of compiling there has to be a solution for this and I WILL FIND IT 😉
Feel free to ask questions and I will try to help you out with your issues if I can.
Now this is a proof that It's working for me.